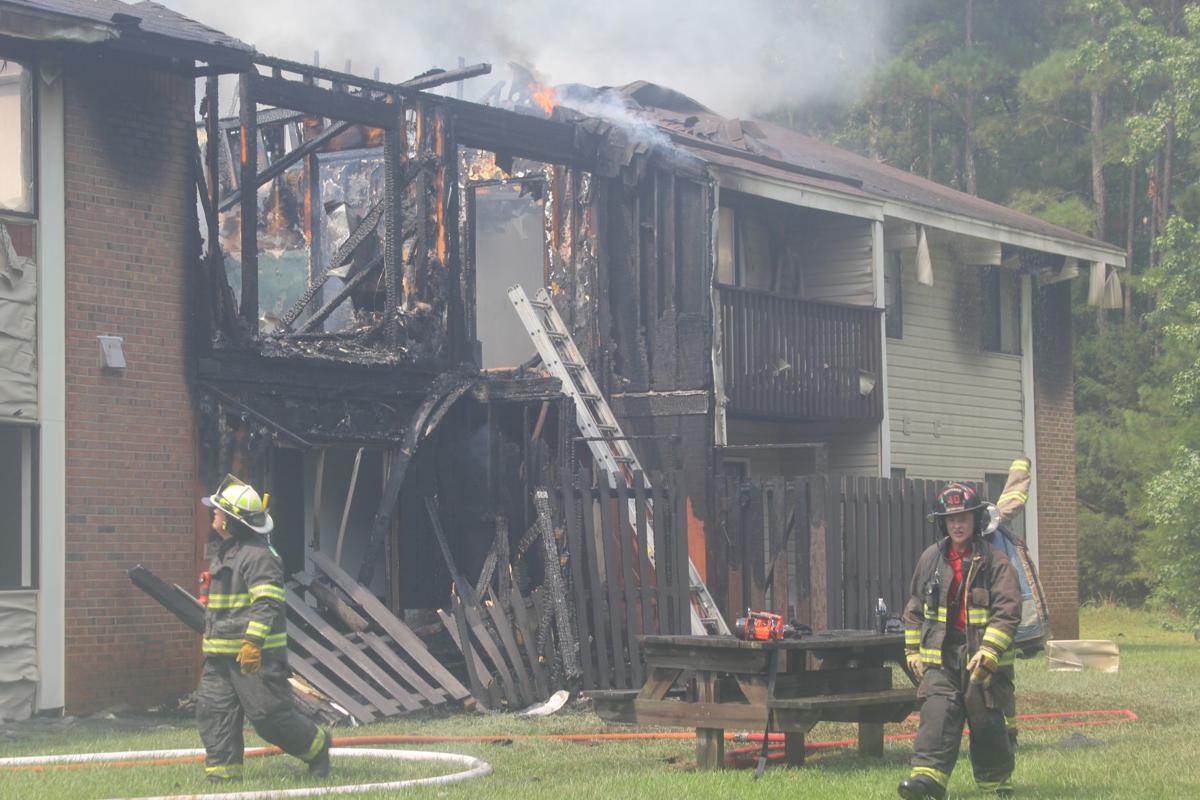 Mario McCasline didn't know what to do.
His apartment went up in flames Saturday with all his belongings in it, and since then he's been staying with relatives.
McCasline was seeking help Sunday night, trying to find out how to replace his license, Social Security card and all his other essential documents.
He had lost everything.
"It's been hectic, man. I was asleep when it started because I had got off work that morning and went home," he said. "I stay in the apartment right above where that fire started. I just hear someone booming on my door, and when I went to the door the fire was just blowing up."
There was no time to grab his wallet or anything from inside, McCasline just ran from the burning building and watched as belongings went up in smoke. He's getting help from the American Red Cross, but said Sunday he was struggling to find out what he should do next.
McCasline's was one of eight apartment units that burned Saturday at building G of Deerfield Apartments on Emerald Road.
The accidental fire seemed to be sparked by a discarded cigarette at a rear, first-floor patio before spreading up the back wall, into the attic and throughout the building. The American Red Cross and The Salvation Army of Greenwood are helping 13 people displaced by the blaze, including four children.
Officials with both organizations have said the best way to help those displaced is with financial donations, which can be marked specifically for the Deerfield families.
To donate, visit redcross.org or salvationarmycarolinas.org/greenwood.
"Our first focus today is getting our tenants into other apartments," said Dan Walters, president of Heritage Company of Greenwood, which managed Deerfield Apartments. "We haven't really started to consider rebuilding yet."
Walters said the company and its staff are working to provide available units at other apartment complexes for the displaced families. He said his heart goes out to the families affected by this horrible situation, but that this fire highlights the need for tenants to invest in renters insurance.
Renters insurance exists to protect tenants' belongings in case of theft or damage, said Brian Schoch, local State Farm Insurance agent.
"They're insured for the same basic perils that someone who owns a home would be, like fire or theft," Schoch said.
Though renters insurance doesn't cover flooding and typically doesn't cover earthquake damage, Schoch said it does provide protection from water damage to property from leaking pipes. It even typically provides the tenant liability coverage, in case a guest gets hurt and decides to file a lawsuit, for instance.
State Farm can provide $20,000 worth of coverage for $10-$20 a month, Schoch said.
"I don't think the overall public knows just how reasonable it is to have, and I believe there's this misconception where people think their landlord is responsible for the property lost," he said. "That's not the case."
writer Damian Dominguez